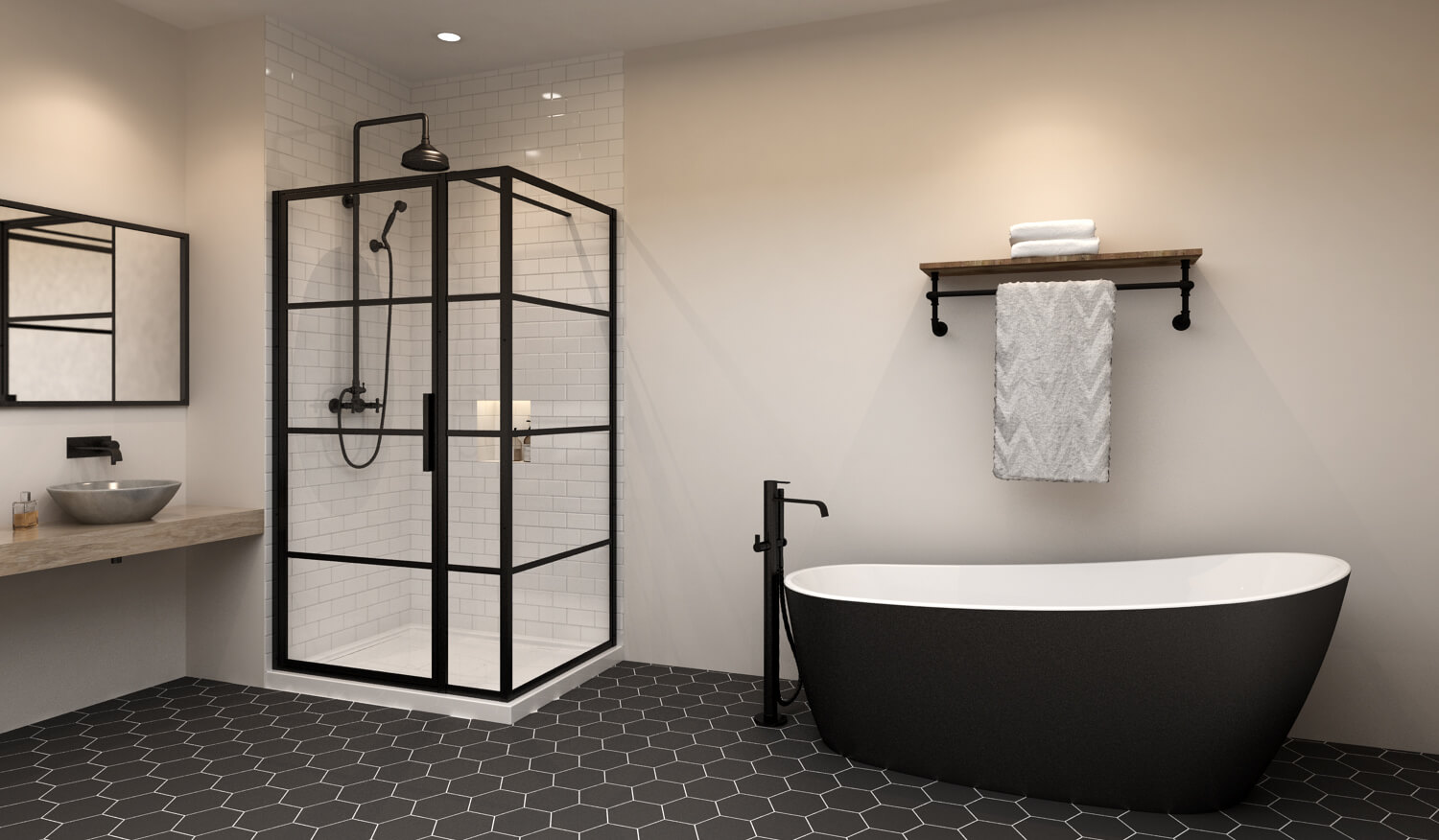 Featured Products
Browse Our Range Of High-Quality Products
Whether you need standard glass shower doors, highly customized bathroom glass shower doors, plexiglass shields, and more, Shower Door of Canada has it all. We are proud to be your leading supplier of any glass or shower door in Toronto.
Our Upgrade Options
Take Your Shower to the Next Level And Keep it in Pristine Condition For the Coming Years
STARPHIRE SUPER CLEAR LOW IRON GLASS
Most glass, while clear, has a green or blue tint to it. The tint and clarity of a pane of glass are greatly affected by the sand used to create it, specifically, where the sand was cultivated and how much iron and phosphorus the sand contains. Starphire Super Clear Low Iron Glass is a high-quality glass product known for its superior clarity and transparency and is almost colourless thanks to its specialized manufacturing process, which removes the majority of iron from glass. Starphire Super Clear Low Iron Glass offers maximum visibility, allowing the true colours, aesthetics, and design of any interior space to be displayed to their full capacity.
INVISIBLE SHIELD 15-YEAR GLASS PROTECTION
Any glass surface has an imperfect surface that can attract a build-up of products, soap, dust, and other particles. The Invisible Shield 15-Year Glass Protection is a specially formulated protective coating that creates a strong, durable barrier that helps prevent chips, scratches, and other common forms of glass damage. Invisible Shield 15-Year Glass Protection is applied through a specialized process, resulting in a protective nano-scale coating that seals the surface of the glass without any visible seams. The system ensures that particles cannot bond to the glass, making it easier to clean and maintain without the need for any special or harsh cleaning solutions.
FLEURCO SEKUR SHATTERPROOF PROTECTIVE FILM
Glass, when broken, can pose a serious danger. Fleurco Sekur Shatterproof Protective Film is designed to prevent the glass from shattering on impact. A film made from a high-quality, strong polyester material is applied to the surface of the glass and will hold the glass together when broken. While the glass will break, it will not shatter and potentially cause damage or injury. In addition to added safety, Fleurco Sekur Shatterproof Protective Film helps ensure the durability and overall performance of glass with improved resistance to scratches, chips, and other damage.
We Have A Reputation For Excellence
Take A Look At Some Of Our Reviews
Considering a renovation job and need a bit of advice or a few ideas?
We Can Help
What Our Customers Are Saying
It was a pleasure working with Shower Door Canada. They have a great crew who all know their job extremely well. They were courteous , helpful and punctual with their timelines. I will certainly recommend them to family and friends without hesitation. Thanks again! Anna in Toronto
From our initial telephone contact and showroom visit to final installation, it was a great experience. Everything promised was delivered with no fuss or bother. They believe in measure twice and cut once! We would certainly use them again and wholeheartedly recommend them to others. Steve & Linda North York The Perfect Project
Tony and his crew did an excellent job providing ideas, being competitive and installing a brushed steel and glass partition and railing in our home. They are a pleasure to deal with and are very professional. I would highly recommend them. Eric F Brushed Stainless Steel and Glass Railing
Hired Shower Door of Canada to supply and install back painted glass in a modern kitchen in mid-town Toronto.

The end result looked terrific and the client is happy with the clean modern look. Easy to keep clean too.

Braveheart Building Kitchen Backsplash
Great team - great service -I have no hesitation in recommending the company - I am extremely satisfied with value for money and the efficiency of the courteous polite team. Private User Shower Doors
This is the 5th shower door I have procured from Shower Door of Canada. Peter has been extremely helpful, knowledgeable and proficient in all my dealings with him . The product has been excellent and installation staff have been efficient and professional. I would not hesitate in recommending Shower Door of Canada. Frank Toronto Washroom Renovations
We are repeat customers, 17 years after the original shower enclosure was installed by SDOC. The original shower door enclosure that opened into the bathroom was replaced with a modern, sliding door (new technology & anti bacterial finish). We priced similar products elsewhere but the quality and value at SDOC cannot be over-stated. Private User Shower Enclosure and Sliding Door
My glass staircase from Shower Door of Canada is the highlight of my home. Thanks to the workmanship and suggestions from them, I have a beautiful environment. i am very thankful for the professionalism, cleanliness and care i received. Susan Toronto Staircase Railing and Shower Enclosures
So great to pick up the parts today at "Shower Door of Canada". You are the penultimate professionals that I remember - helpful and knowledgeable. To quote a well earned adage - customers are built one at a time. I'm a life long one!!!. Deborah
I spent almost every free minute for 2 months renovating my master bath. I wanted to compliment the marble tile with a frameless shower enclosure.

I went to several local vendors who told me that this job was too complicated for a "do it yourselfer" and quotes $4,000 to $5,000 for the job. I wanted the satisfaction of finishing the job myself and hoped to do it for less than $4,000. I searched the internet for framelss shower doors and came upon your company.

You were very informative and worked with me to make sure I understood the options. You helped me through the measurement process and explained the installation. I ended up with the shower enclosure I wanted for less than 1/2 of the lowest price quoted by local vendors.

Thanks!

Mitch
I am very satisfied with the showers doors your company provided. Your patience in helping with the custom design is appreciated. The hinge and handles are very nice and easy to install.

Your doors are made very well and the installation process was not very difficult. Although I will recommend that you provide some basic instructions for your "do-it-yourselfers".

Sincerely yours,

Alex K., Hollice Hills, N.Y.
The shower door has been great, we cut hardware to size and installed successfully and finally had a long overdue shower. Thanks for following up with the warehouse/shipping. One does sometimes wonder on these international credit card transactions if one isn't being had. I appreciate the customer service.

I wonder if my situation was an unusual one in your day to day because of custom sizing and additional fabrication or if you do that regularly?

The product looks great, thanks for your help.

Laird N., Cambridge, Mass
I am writing to express my appreciation to you and your firm for the exemplary service and workmanship we received from you.

All the shower door installations done in our locker room and hotel rooms were expertly done, as to be expected, but the rather complicated waterfall installation - a "one of a kind" project - was handled by you in a most professional and cost effective manner. The results are smashing . . . and Spa guests are blown away (figuratively) upon entry to reception.

It was a pleasure doing business with you and I look forward to our next project together. Just thought you would like to know.

Best regards,

Ben Wise, Owner/Manager, The Inn at Manitou
Our experience with Shower Door of Canada has always been pleasant. We use Shower Door on our custom designed bathrooms because of their expertise in providing quality and competitively priced merchandise. Our clients have expressed satisfaction with the product and with the expediency of delivery. We have always found their staff to be service oriented and when asked to provide a quotation for an item the response is almost immediate.

Although they are an out of province supplier, distance has never been a consideration.

We have been very pleased with Shower Door and will continue to use them as our supplier of custom shower doors.

Sharon Fogo, MRAIC, Anwyll Fogo Architects Limited, Halifax Nova Scotia
Previous
Next
---
For more information and personal attention: