When opting for glass railing installation, there are essentially four main ways they can be installed. Each of these approaches is more or less equal in terms of strength and aesthetic beauty. However, they each provide a distinctly different look and feel, so choosing which one to go with is a matter of personal preference.
Here are the four main approaches to glass railing installation explained.
1) Spigots
Spigots are a kind of vertical bracket or peg that holds the glass panels in place on a horizontal surface. They are typically made from stainless steel or aluminum. Spigots are designed to be installed directly on the floor, with the glass panel resting vertically on top and secured by means of a rubber gasket, a metal disc or a clamp. Spigots allow for a fairly flush and seamless glass railing.
2) Standoffs
Standoffs are almost the opposite of spigots in that they are a kind of horizontal bracket or bolt designed to be installed on vertical surfaces. To install glass railings using standoffs, one would have to drill holes through the glass, through which the horizontal cylindrical standoffs would be fed and upon which the glass would rest, with similar rubber gaskets or clamps holding the glass in place. Standoffs also allow for a seamless and stylishly flush glass railing.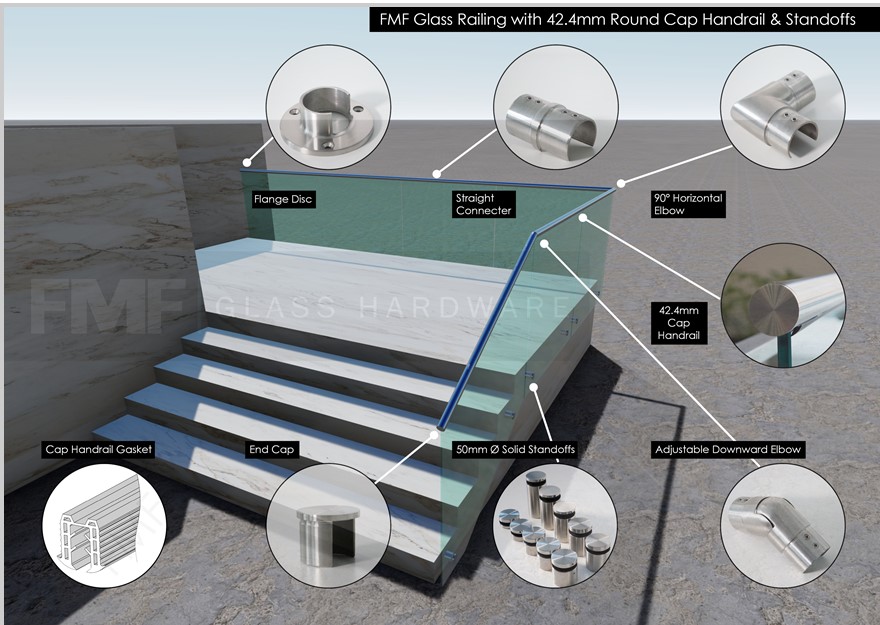 3) Posts
If you are not concerned about the railing being 100% flush and the attachments being nearly invisible, then post railings are a good way to go and have a unique aesthetic appeal of their own. Post railings make use of steel or aluminum posts and rails to which glass panels are individually attached. This makes the steel framework something of a feature in the design while also providing added strength and durability.
4) Base Shoes
A base shoe is a long and continuous slot into which the glass is fitted and secured. Base shoes are long, horizontal steel or aluminum brackets, which are firmly secured to the floor. The glass panels then slide into the base shoes, providing a fairly seamless effect. A matching handrail is often attached on top to finish the look off.
At Shower Door of Canada, we do all kinds of glass railing installations. Request a quote today to get going on your glass railing installation.