Dive into what the market is saying is 'hot or not' with tiles, taps, and bathroom shower door installations. Our design team shares a trend forecast for 2022.
Design Trends For Bathrooms 2021/2022
When it is time to renovate, the majority of homeowners aim to update the style as well as predict future styles so that the property retains its resale value going forward. So let's dive into what the market is saying about tiles, taps and bathroom shower door installations.
Design Trend #1 – Organic Shapes
Softer oval and round shapes are dominating the bathroom design horizon. Spheres and egg shapes are making their presence felt in bathroom light fittings, mirrors, and other fixtures. The room structure is also getting its organic feel on with curves appearing. We are not talking polka dots but curves that have a clear link of inspiration from living things. Think curved (2D and 3D) shower walls, egg-shaped baths and soft curves on the corners of items like taps and faucets.
Design Trend #2 – Wood Or Wood Look
The latest tiles manufactured with natural wood patterns create beautifully warm aesthetics without the trouble of timber floors in a wet environment. In addition, you can put underfloor heating below the tiles to make your bathroom toasty. The wood-look tiles work well on walls and floors, giving a lovely, organic visual appeal.
Real wood can also be used, and salvaged wood has steadily gained popularity. Slices of the wood can be transformed into stylish panels or mirror frames. The organic lines contrast beautifully with an otherwise crisp and linear interior.
Design Trend #3 – Bedroom-Bathroom Glass Dividers
Glass is a smart space saver as a room divider as well as letting in natural light and giving a wonderful open plan feel. Dividing the bedroom and bathroom space with a glass wall is a strong trend for 2022. The sliding glass partitions are sleek, contemporary and help enormously if an en-suite bathroom runs the risk of feeling too small.
Design Trend #4 – Shower Design
Shower heads in bathrooms used to be positioned directly opposite the shower door installation. No more – shower heads are taking centre stage and moving to the centre of the shower for an immersive rain experience. Combo shower heads also come with steam and waterfall options, as well as have integrated LED lighting.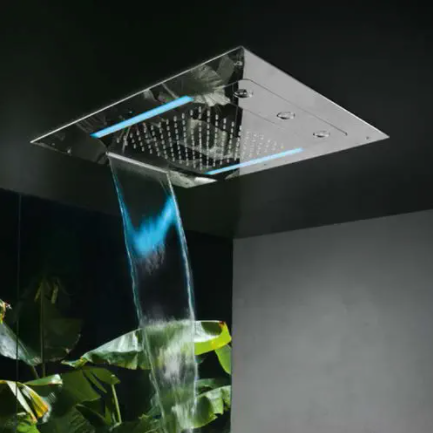 Design Trend #5 – Wall-Mounted Sink Vanities
While clutter is 'banned' from the bathroom, so are tons of storage cupboards. Storage is understated, minimal and with discreet handles or grips. This elegant look celebrates the minimalist style. The wall-mounted sink vanities must also be easy to clean, not fussy with detail and storage systems can be huge if they are recessed into walls and blend in with wall finishes. Less is definitely more in 2022.
If you want more advice on design, fixtures or where to position your bathroom shower door installation, give our experienced, helpful team a call.